A brief history
Our love affair with Kefalonia began in September 2006 with a 2 week holiday in Skala to celebrate a special birthday.
The plane landed just after a thunderstorm and as the door slid open the smell hit us, you know the one, the smell of wild herbs in the air, sent skyward by the pounding rain. We did what many people do on their first visit to Skala: lazed by the pool, drank too many cocktails at Sally's and Captain's Bar, and hired a jeep and scared the bejeezus out of ourselves on the road to Sami to see the Drogorati cave and Melissani lake. Oh! and we also got engaged 😀 !! We had such an enjoyable and relaxing time that we holidayed on the island most years after this, usually in May or September.
Some important business to attend to
With a move to the island always on our minds, we set about planning something equally as important – a Kefalonia wedding.
There are many wedding planners on the island, but we had a business card for 'Kefalonia Weddings' which had been given to us on our first visit.
We made contact with Donna in early 2016 and we met on the island that June. It was Donna and her team who ensured that our small family wedding was designed to our specifications and went off without a hitch (almost) 😛
We were married the following May 2017 on the beach at Skala (where else) and after the wedding and honeymoon we returned home to start planning our next move.
A smart move
We relocated to Kefalonia in March 2018, a day before all our possessions, so with little else to do we headed for the local taverna. As soon as we stepped inside we were immediately made to feel welcome by both Greek and British locals all of whom were complete strangers. A reminder, as if it were needed, that we had made the right move.
We are fortunate enough to have worked every summer season since arriving, but finding ways to keep busy during the winter months proved a challenge.
So, in the winter of 2019 we set up a Facebook Page and associated Facebook Group to help spread the word about Kefalonia and try to boost tourism.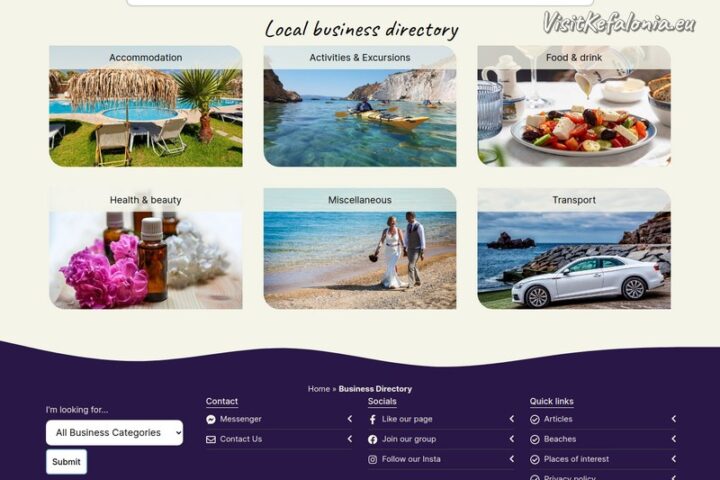 A new beginning
After the Covid ravaged summer of 2020, with many struggling to find work and the prospect of another long winter with all the cafes closed we embarked on our new plan.
We favour no business over another and our only criteria for inclusion is to have a website and/or a Facebook page, a phone number and a few pictures. We do not ask for any payment of any kind from any business featured in the directory, nor do we accept inducements for favourable positioning within it. All searches and lookups generate results in a random order so that no business is listed artificially high (or low).
The plan is to complement our growing social media channels with a web based business directory that is of benefit to all. The directory should be accurate, easy to use and free. Free for businesses to promote themselves and free from 3rd party adverts. Free forever!
The future
We know we have many more businesses to include in the directory, particularly for accommodation and food. Rest assured we will be working hard to add more going into the season. We know we also need to add more information about what is around, please tell us if we've missed any of your favourites.
We have some ideas in mind for how to evolve and improve the directory and the website. We will be working hard to design, test and implement these changes as soon as time allows.